Product Description
This electronic board will be installed over a Raspberry Pi CPU card (Version 2, or version B+). It will be in interface with
a radio transmiter/receiver (Link)

a radio transmiter (TX)

a radio receiver (RX)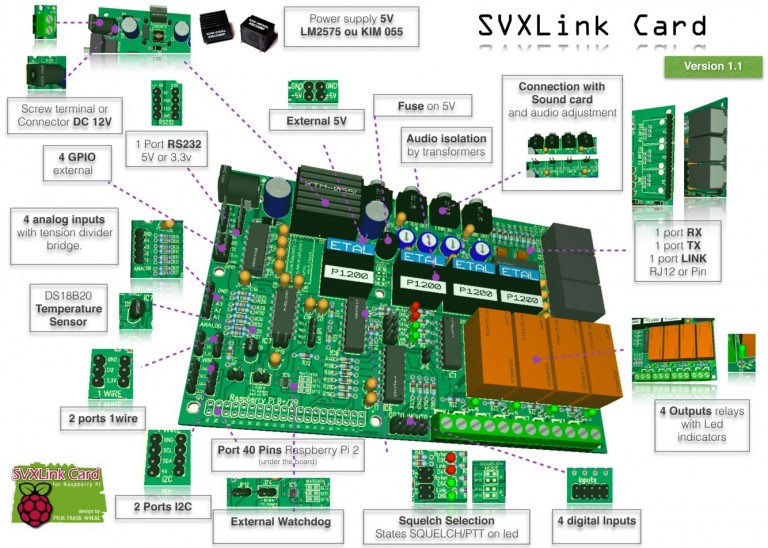 The characteristics of the card are the following
Dimensions 150mm x 100mm

External power supply 12 Volts, regulator on board 5 Volts with LM2575 or KIM055

2 radio way repeater (RX and TX) and also one way to transponder or Link by radio

Audio level ajustement with potentiometers (In/Out)

Connections to transceivers by pin (Dupont) or by RJ12 connector (6P6C)

Audio isolation by transformers

Connect to USB audio cards by stereo audio Jack or pins (Dupont)

LED Indicators for PTT and SQUELCH detection

Normal or reverse SQUELCH detection selectable by jumper.

4 outputs on relays with LED indicators

4 digitals inputs

Protection by opto isolated on digital Input and Output.

4 analogs inputs (0-3,3 Volts)

2 1WIRE ports, 1 temperature sensor DS1820 on board

1 RS232 port

2 I2C ports

External Watchdog with ajustable timer set by solder jumpers.

40 pins connection for Raspberry Pi
The SVXLink Card board supplies the power to the Raspberry Pi thru the 40 pins connector. The recorded consumption of the board SVXLink Card are the following ; It's for a configuration with one USB soundcard (RX + TX):
Standby : 150 mA / 12V (soit 1,8W)

Transmitting : 200 mA / 12V (soit 2,4W)

4 relays switched : 350 mA /12V (soit 4,2W)

Transmitting and 4 relays switched : 390 mA/ 12V (soit 4,7W)
Please note that by ordering on our website, you participate in a grouping order, with normaly elongated delivery time. More details are given on the Delivery tab. Please note that the collected funds are exclusively dedicated of both non-profit association. Its help in the development and maintenance of automatic systems (Repeaters).