Product Description
Adalm Pluto – What is it?
The Adalm-Pluto also called PlutoSDR is an SDR transceiver proposed by Analog Device at a relatively low price. It is presented as a platform for student learning in the fields of science, technology or engineering.
Various software packages such as MATLAB or Simulink are graphical user interfaces (GUI) for applied developments. Based on the AD9363, it is capable of generating or receiving analog RF signals from 325 to 3800 MHz, and up to 61.44 mega samples per second (MSPS) with a bandwidth of 20 MHz.
Many radio amateurs take advantage of this full-duplex transceiver to operate. It is often found in QO100 (Qatar Oscar 100) satellite ground stations.
PTT switching board
The SDR Console software (G4ELI) and PlutoDVB firmware (F5OEO) are softwares that fully exploit the capabilities of the Adalm Pluto to respectively receive and transmit narrowband (SSB, CW,…) and wideband (digital TV) modes. Both softwares control the GPO ports of the Adalm Pluto to allow the control of external equipment such as an external amplifier. More precisely, the GP0 and GP1 ports are operated by this board. Install the DATV firmware of Evariste F5OEO Brave version for a complete compatibility.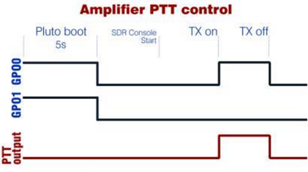 The Duo PTT PlutoSDR board
With this board, you will be able to directly control 2 external equipments when your Adalm pluto goes on air. After controlling the GP0 port, the switchover takes place in a maximum of one millisecond.
The switchable circuits are independent and can therefore switch two remote circuits operating with two different voltages. You can, for example, switch one or two circuits for powering external amplifiers, an LED indicator light, an ON AIR sign (and why not ?) … The maximum voltage is that of the relay, i.e. 200V DC and 500 mA maximum.
This board integrates the components and the PCB to be mounted by yourself. The board can be integrated directly into the original case of the Adalm Pluto. It is compatible with the revision D of the Adalm Pluto.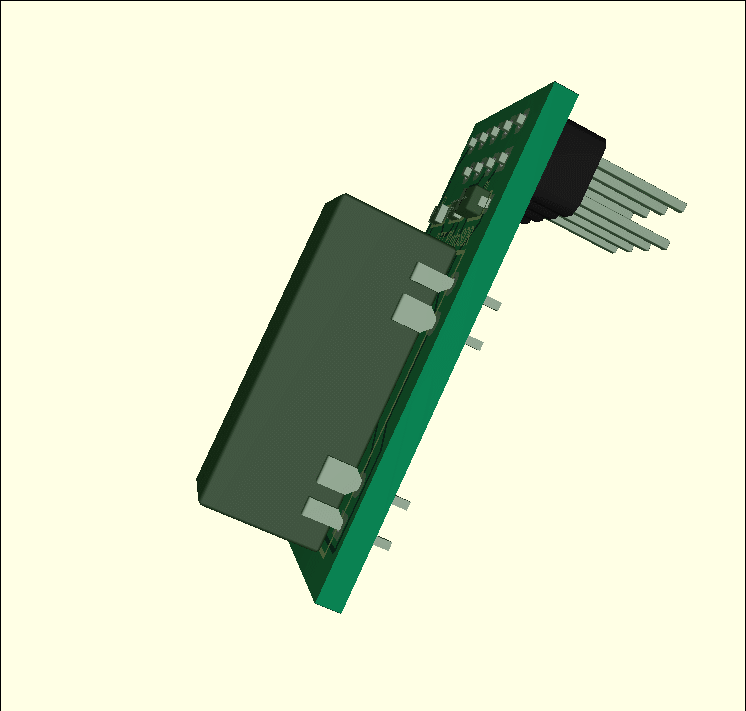 List of the parts delivered in the kit, to be assembled after delivery by yourself:
1 PlutoSDR PTT Duo board

16mm*32mm – thickness 1.6mm
double-sided, blue colour, FR-4 standard (Tg 130-140°C)
serigraphy, varnished

1 Double contact relay HE722A0500  or  HE722A0510  (datasheet)

0.5 A per contact
200 Vdc max
switching in 1 ms max

2 transistors MMBT3904L (datasheet)
2 resistors 4,7 kΩ, 125mW (datasheet)
1 diode 1N4148W (datasheet) [Not included if provided relay is HE722A0510]
5 pin, 90° connector
9 pins (4 + 5 pins) for GPO-AUX connector
The connecting wires and external connectors are not included. The assembled and tested board is supplied in an antistatic bag. We also offer an unassembled version as a component kit.
The plan and instructions are to be downloaded.
Implementation suggestion
Other photos available and also instructions on f5uii.net